Okuma süresi:
6
dakika
Would you like to wear someone else's skin? How terrible does it sound when you say that? As people learned about the dark realities behind the leather production industry, more and more people started to prefer ethical leather alternatives. As consumers reject real leather, more well known brands have started to be a part of this ethical change by adding vegan leather options to their collections. The Italian shoe designer Mirco Scoccia, who has worked with giant brands such as Bottega Veneta, Cole Haan and Tory Burch, has made his dreams come true by creating a shoe brand that is completely natural and vegan. The formation phase of vegan leather, which is produced with great care and effort and is certified by the world's largest animal rights organization PETA, is quite interesting. But is it really possible to produce quality leather that does not harm animals and the environment? Mirco Scoccia, who managed to bring this genius idea to life has the answers. I leave you with this very special interview.
What made you think of creating a vegan shoe brand?
After working for more than 20 years for top luxury and contemporary brands, I wanted to come up with a disruptive footwear project, while combining the best of my experience with today's consumer values. I'd like to permanently shift the luxury accessories paradigm by offering design-forward, truly sustainable, cruelty-free and exquisitely handcrafted footwear that honors the Earth's heritage and protects its future. The 'O2 Monde' project is the synthesis of my experience.
My main goal is to make effortless, expressive shoes that benefit both people and the planet. I want to create timeless, limited edition designs that are also impeccably handcrafted in Italy from the newest and most sustainable eco-materials.
Nowadays, it's popular among big brands to manufacture in countries where cheap labor is legal, which results in far too many human right's disasters. I wanted to go back to my roots and produce vegan footwear collections in Italy with fair labor, adequate wages and better treatment of factory workers. Additionally, I started researching alternative materials to traditional leather, with the highest percentage of renewable plant origin (like pineapple, wine, wood and corn) and the lowest environmental impact of its raw materials and manufacturing processes. Because the footwear industry is so bloated with cheap goods already, I firmly believe it's ethical and sustainable to concentrate on producing fewer shoes of higher quality. And because there are also plenty of other aspects involved in establishing an eco-conscious business, I'd like to pay attention also to every single detail, like shipping methods. For example, instead of packaging my product in unnecessary plastic, I'm going to use recycled materials.
Finally, a few words on the inspiration behind the name of my brand, O2 Monde, since I was thinking of a name that could speak to this ethos. O2 represents pure oxygen: the third most common element in the universe and a building block of life. Monde means 'world' in French. It also refers to people and community.
What material do you make the shoes from?
I've been researching the most innovative materials available and their vendors for the last few years. To me it's not only about making beautiful vegan shoes but also making sure the entire supply chain will respect certain higher standards in respect of eco-sustainable practices.
That is why every element of O2 Monde shoes – from insoles and lasts to adhesives and uppers is made from sustainable, plant-based materials sourced from the world's most innovative eco-materials manufacturers.
I'll also be using 100% of all materials (whereas traditional leather shoes use only a percentage of a hide, due to natural imperfections). Further, cutting scraps will be captured and recycled, and skin finishing will be minimal because plant-based materials are naturally perfect.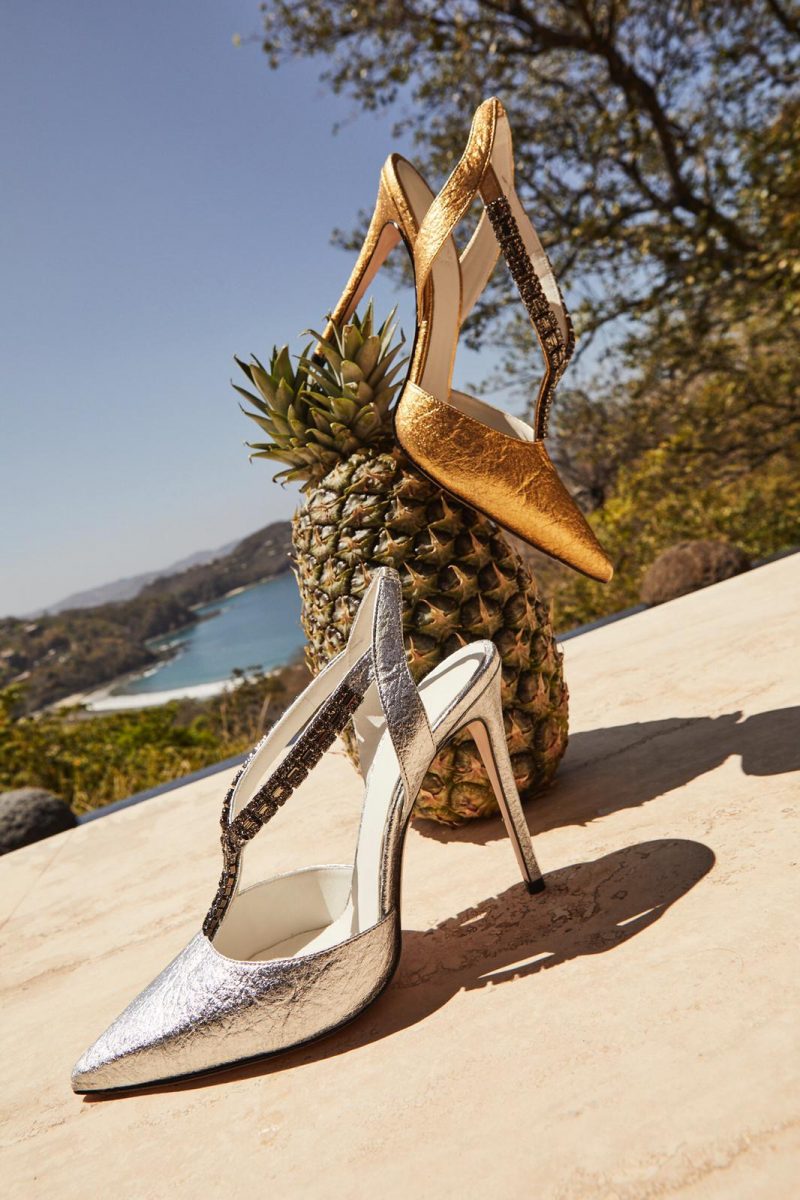 Short description of materials:
Using textiles such as Freska, made from a mixture of corn and cereal, Pinatex, from pineapple, Vitigna, a leather-like material derived from grape skins, Bioveg made from sustainable vegan leather which combines recycled polyester reclaimed from water bottles as well as natural and real wood.
Longer description of materials:
I'm really excited to share more info about the materials I'm using on O2 Monde shoes since I truly believe they make a difference. Not only because of their stunning beauty to look at as to touch but most importantly for their innovative and environmentally friendly features.
* Pinatex: a durable, resistant vegan leather fabricated from felted pineapple-leaf fibers. Because pineapple leaves are traditionally discarded or burned, the closed-loop fabric's source material requires no additional land, water, pesticides or fertilizers. It also provides rural pineapple famers with additional income and leftover biomass, produced by the separation process, which can be employed as fertilizer. Further, Pinatex dyes are GOTS certified and its resins comply with AFIRM standards.
* Freska: Our insoles are crafted from Freska, a pioneering vegan lining made of corn and cereal, with minimal solvent residue level. As functional as it is sustainable, Freska is extremely breathable, absorbent and resistant for enhanced comfort. It is also self0-molding and is more than 60% lighter than a traditional leather insole of equal thickness.
* Wood: While the application of wood in shoe manufacturing is well-established, the use of the biodegradable, animal-free material in place of leather reduces CO2 emissions by approximately 60% per square meter. Incredibly soft and flexible, our conscientiously sourced wood sheets come from ethically managed forests and possess FSC certification that attests to their origins. They are bonded to our supple plant-based fabrics using an environmentally friendly adhesive.
* Vitigna: The most innovative "wine leather" available, this eco-friendly vegan leather begins life in Tuscany's famous vineyards. While the 100% plant-based bio-engineered material feels and performs like conventional leather, it is crafted exclusively from wine industry leftovers using water-free processes, free of the toxic chemicals used in the traditional tanning.
* Bioveg: This supple, sustainable vegan leather combines recycled polyester reclaimed from water bottles with signature Veg technology. The latter comprises bio-polyols, which are safely derived from plants without robbing consumable resources from farms or animals. Manufacturers stats confirm that BioVeg reduces energy consumption from non-renewable resources by 44%, diminishes its carbon footprint by 15% and contains more than 50% bio content, derived from renewable sources. Additionally, the energy employed during the coating process comes from renewable sources.
* Thunit: Our outsoles are fabricated with Thunit, a flexible, durable, abrasion and water-resistant vegan fabric made without hazardous or harmful substances, that the manufacturer defines as 100% recyclable.
Moreover, its environmentally rigorous manufacturing process includes the recapture and depigmentation of water waste.
Is there a difference in quality between vegan leather shoes and leather shoes?
Not all traditional leather is the same quality. The same rule applies to vegan leather. Our motto is 'vegan not plastic' (#vegannotplastic) as all our plant-based materials are sourced from the world's most innovative eco-materials manufacturers. Most of our materials are sourced and made in Italy from the most innovative and forward-thinking vendors. Generally speaking, and since we're focusing on higher standards quality vegan leather, there isn't that much difference to real leather.
Who is the O2 Monde brand appealing to?
I believe O2 Monde could appeal to different people, like people who care about starting a change in the industry as well as people who love timeless and high quality Made in Italy shoes at a fair price.
Their profile can be self-described as "conscious consumers". They are deliberate with their purchases, preferring artisan-made items and hand- craftsmanship, with sustainable undertones whether shopping for single origin coffee, natural wine, art books, candles or fashion. 5) Where do you see the 02 Monde brand in the future?
Moving forward, I plan to create a proprietary sustainable material for O2 Monde, as well as to build my company out to be a lifestyle brand by expanding into men's shoes, handbags and ready-to-wear. I hope that my work along the way will inspire established brands to take more action around sustainability.
I'm committed to creating luxury sustainable shoes in a vegan and clean way. For this reason I created a specific hashtag on O2 Monde Instagram profile, which is #vegannotplastic. I also hope more and more brands will start embracing this idea of creating fashion in a more thoughtful way.
I also would like to encourage consideration when it comes to investing in a pair of new shoes. By making high quality footwear at a third of standard retail, women can afford luxurious long term staples to elevate their everyday outfit.
Finally, for each pair of shoes purchased, we will donate 1% of our profits to 1% Percent for the Planet to offset any environmental impact. O2 Monde is also an official supporter of PETA, the international animal rights organization.
Vegan, not plastic.
Grazie
Sources; https://en.wikipedia.org/wiki/Main_Page, https://www.peta.org/, https://www.afirm-group.com/wp-content/uploads/2020/01/2020_AFIRM_RSL_2020_0131.pdf, https://www.global-standard.org/the-standard