Okuma süresi:
8
dakika
One Song Glory
"One song glory.
One song before I go,
Glory…
One song to leave behind."
"Jonathan Larson at the entrance of New York Theatre Workshop"
Jonathan Larson passed away at the age thirty-five, 1996 on the night of previews at Off-Broadway. He didn't get to see his glory unlike millions and millions of people. Who would have guessed this anthem sang by Roger in the Rent, would be a kind of a prophecy? His known last written words are these; "In these dangerous times, where it seems the world is ripping apart at the seams, we can all learn how to survive from those who stare death squarely in the face every day and [we] should reach out to each other and bond as community, rather than hide from the terrors of life at the end of the millennium."
Where the branches come from?
Larson wrote a musical about aids, homosexuality, bisexuality, love, capitalism, family and many more. He has put his heart out in his lyrics and music. He created a perfect replica of the 90's world he lives in, despite the fact that every musical back then was creating a seraph of joy on stage. He took the La Bohème by Puccini and mashed it up with the neglected facts of back streets. Larson was already lost his friends to aids, was dealing with the discrimination of society, lack of success in his art life yet his artistic and delicate soul kept his hopes high for future. His surrounding pain and hope of a kid can be easily felt in Boom Boom Tick! – Another musical by him which is slightly less known-
His biggest accomplishment was Rent. It changed every acknowledged fact of musical history, as "Oklahoma!" and "Hair" did many years ago. Rent was and is, the reflection of people on the street (Pun intended). It was the very first musical in years, to reach out to bewildered and young community, who had something to scream out. It was the declaration of their thoughts, fears, concerns, needs.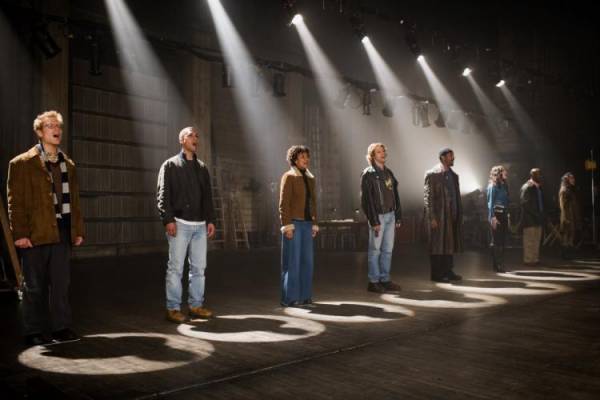 "Original Cast of Rent the Musical"
RENT's Process of Creation
Originally, the idea of Rent belonged to a young playwright Billy Aronson. Aronson picked up the similarities of the La Bohème and the world surrounds him. He was seeking for an innovative composer to work with him. Lucky we are, he met Larson. In 1991, Jonathan asked permission from Aronson to work on the musical by himself. Aronson agreed with Larson yet his contribution was enormous already. Aronson even wrote the lyrics of "Santa Fe" which is one of the biggest hits of the musical.
The first reading of the musical was in 1993. To be frank, it was a mess. The first draft was in need of an assistance. It was scrappy and dispersed like the life of Larson's. He had numerous of ideas and he was making the very first mistake of writing; putting every idea in his craft. Anyhow, the musical was giving a big promise of becoming the new "Hair".
After long hours of working, revising and having professionals' notes, Rent made it to Off-Broadway at 1996. After the first preview, Rent took the world by the storm. It went on Broadway at the very same year. Nominated for ten Tony Awards and won four of them in addition to one Pulitzer Prize and six Drama Desk Awards, plus a nomination for Grammy Award. It is the ten to eleventh longest run musical in Broadway history – suppressed by Wicked the musical- and went on stage from New York to London to Tokyo and many other cities. There is also a film version with some of the original cast and will be having a revival as live performance on TV, planing to be aired on 2019.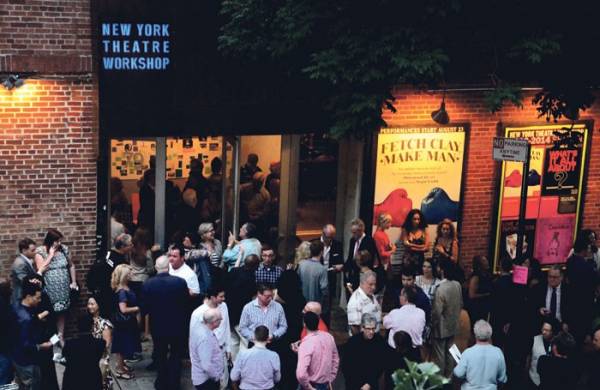 "New York Theatre Workshop / Off-Broadway"
Who is Rent?
The story revolves around eight main characters;
Mark Cohen played by Anthony Rapp, a struggling Jewish-American documentary filmmaker and the narrator of the show. He is Roger's roommate; at the start of the show. He was recently dumped by Maureen for a woman. It's been alleged that Larson created the character from himself.
Roger Davis played by Adam Pascal, once-successful-but-now-struggling musician who is HIV-positive and an ex-junkie. His ex-girlfriend, April, killed herself after finding out that she was HIV-positive. Roger has the belief of he is a walking disaster and spreads death.
Mimi Márquez played by Daphne-Rubin Vega, a Hispanic-American club dancer and a drug addict. She lives downstairs from Mark and Roger, is Roger's love interest during the show. Like him, has HIV. Anyhow, Mimi is more living in the moment kind of a person on the contrary of Roger. Additionally, Mimi had a one-time thing with Benny once upon a time.
Tom Collins played by Jesse L. Martin, an anarchist professor with AIDS. He is described by Mark as a "computer genius, teacher, and vagabond anarchist who ran naked through the Parthenon." He was formerly a roommate of Roger, Mark, Benny, and Maureen, then just Roger and Mark, until he moves out.
Angel Dumott Schunard played by Wilson Jermaine Heredia, an extravagant young drag queen who uses both she/her pronouns when in drag and he/him pronouns when out of drag. His relationship with Collin stands as the monument of love for both characters and the audience. The lyrics; "…I will cover you with a thousand sweet kisses when your heart has expired." clearly shows the value of the time left for them.
Maureen Johnson played by Idina Menzel, a performance artist and a bisexual. Who left Mark for Joanne. Her attitude against her love-interests is discussable yet undeniably moving.
Joanne Jefferson played by Fredi Walker, an Ivy League-educated public interest lawyer and a lesbian. Joanne stands as the critic of the difference of higher and lower classes of society which is going on over centuries.
Benjamin "Benny" Coffin III played by Taye Diggs, the landlord of Mark, Roger, and Mimi's apartment building and ex-roommate of Mark, Collins, Roger, and Maureen. His one hundred and eighty degree turn from his old way of living, makes the audience loathe his character and makes them question their way of acting.
Rent's Story of Unspoken Truths
– Spoiler Alert –
Rent has an extremely complex dramatic structure;
After being requested to pay rent which they were waived before; Roger, Mark and Collins talks to Benny. He requests his ex-roommates to prevent Maureen from debuting her anarchist performance in return of not paying the rent. Since Maureen's protest takes place where Benny is planning to turn into a cyber-café. The crew declines without hesitation.
Angel meets with Collins in an alley. Hereby, audience gets to realize the romantic relationship between two. Later on, Roger comes up to the stage and mourns after April and reveals his desire of writing one more song to live after his death. Right after, Mimi basically breaks into Roger's apartment and openly flirts with him.
At the very next day, Maureen calls Mark for help due to a technical problem at the place where she is going to perform. When Mark arrives to the place he realizes that he is left alone with Joanne. Mark opens up his past with Maureen and her hobby of cheating and warns Joanne in a way. Afterwards he asks for permission to add the performance to his documentation.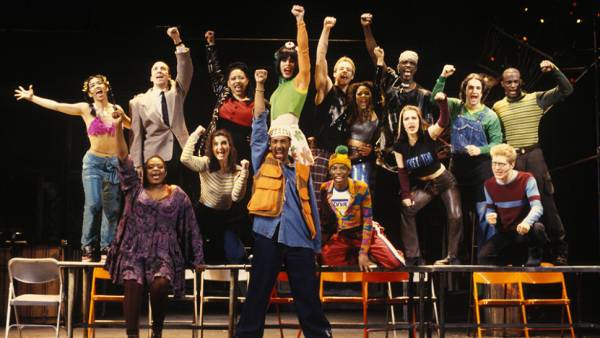 "The cast performs La Vie Boheme"
Where things seem fine but destined for destruction
Later on, Mimi marches up to the stage and sings about her desire to go out which is basically declares her intention life her life fullest during the time she can and barges once more into Roger's apartment yet she faces with Roger's anger coming up from his insecurities. In the end while others gather around for the performance, Roger joins them. As the Maureen performs, Benny shows up with polices which turns out to be a great mistake. Show turns into a gigantic riot. After the show, people comes together at Life Café. Benny enters and asks for their forgiveness. There, Roger finds out that Mimi is HIV-positive, and Mimi already knows that Roger is too. The two re-enter the cafe and celebrate their newfound (More like re-found) relationship.
The gang celebrates the New Year together, with Mimi vowing to give up her drug habit and go back to school. However, they are locked out of their apartment, and all of their things are gone. Joanne serves as Mark's lawyer and they sell his footage to Buzzline and he negotiates a job there. Maureen proposes to Joanne, and she accepts. Forward to their engagement party, where Maureen flirts with yet another woman.
Angry, Joanne threatens to leave her, while Maureen becomes angry at Joanne for making her be too monogamous. They then walk out on each other. Benny has repossessed all of Roger's and Mark's things, but it is revealed that Mimi later had dinner with Benny and he had changed his mind. Roger finds out, and believes that she is cheating on him with Benny. During the next song, Mimi resumes her drug habit and falls into a state of despair, while Angel gets progressively sicker and eventually dies.
The Good Witch Dead!
The next scene is Angel's funeral in a large church. Collins and everyone else at the funeral. After this, Roger and Mimi argue about their past relationship, along with Joanne and Maureen. In their argument, Roger reveals that he has sold his guitar, bought a car, and is planning to leave for Santa Fe. After he arrives in Santa Fe he discovers that he still loves Mimi and decides to return. During this time Mark decides to finish his own film and quits his job at Buzzline.
However, after Roger returns he finds out that Mimi has quit rehab and has gone missing. After a while, Joanne and Maureen find her at a park. She had been living on the streets. As she is about to die, Roger sings the song he has been writing over the last year. Mimi is near death, but regains consciousness and says, "I was heading toward this warm, white light. And I swear, Angel was thereand she looked good!"
Before and After Rent
There were uncountable reasons for Rent to fail yet it got an indescribable trophy. This rock-pop musical changed the rules of composing and storytelling. It became the speech-maker of scared and misunderstood lives. Larson's way of sharing love and pride created a wave of shock all over the world. His childish beliefs reminded everyone that we should appreciate what we have and must give love no matter what. He showed us a way to destroy the walls of pride and prejudice between each other. Rent was a merge of real life with fairy tale. It showed the importance of family, friends and love. Rent was not finished by Larson but during it's transformation to a bigger stage, it was made by his notes left. It's loops and structural problems makes the story more accurate. Makes the imperfect, a new definition of the perfect.
I, hereby finish this article by the lyrics of the genius Larson;
"Love heals…"
P.S. You can easily reach the movie version of Rent the musical.